Mother's Day Email Marketing Ideas 2023
Mother's Day, which is celebrated on the second Sunday of May every year is such an unique occasion when people across the world appreciate the love and care of mothers at every age. No doubt that 2023 Mother's Day, which is celebrated on 14th of May, is going to be a significant day for many families, moms, children and even grandchildren and other close relatives like aunties, mother-in-laws etc. On the other hand, for businesses, it's an outstanding  opportunity to connect with customers and drive sales. Email marketing plays a vital role in promoting Mother's Day offers and engaging customers. In this article, we'll explore creative Mother's Day email marketing ideas for 2023 and provide ready-to-use examples of email templates and subject lines to inspire your campaign.
Let's begin!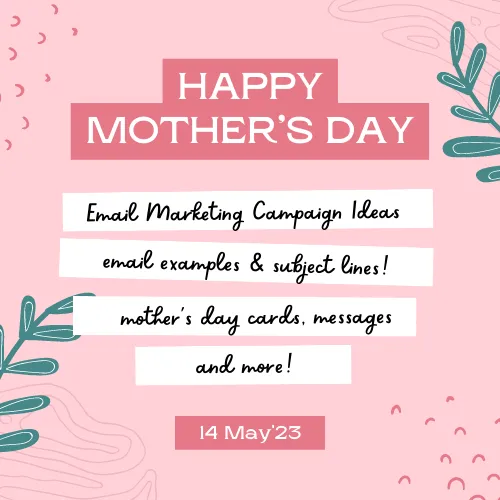 The Importance of Mother's Day in Terms of Email Marketing
Mother's day email marketing has become an increasingly popular method to evaluate this special occasion within the scope of digital marketing. As we mentioned in our previous blog post May Email Marketing Ideas 2023, email marketing is a practical way of connecting with customers and clients on Mother's Day, as well as creating a memorable experience for them.
To begin with, email campaigns can be adopted in order to offer discounts, promotions, gift coupons for Mothers day gifts or ideas that customers may not have thought of before. This could include offering free shipping on orders over a certain amount, or exclusive deals only available through the email campaign. Holiday email marketing campaigns can also be used to target potential customers who might not otherwise think about buying something special for their mothers on the holiday itself - such as those living in other countries who don't always get access to traditional gift-giving opportunities like Mother's Day cards and flowers sent from home country stores.
In addition to all of these, today business owners can not ignore the power of using social media platforms and promoting the events on social media via email newsletters. So, companies may run inspiring contests asking followers what they would tell their moms with a few lovable lines; sharing stories from past years' celebrations; hosting giveaways related specifically towards mothers; and even creating content featuring inspiring quotes about motherhood that will resonate with readers everywhere! By engaging users in meaningful conversations online during this special time of year, companies are sure to create lasting relationships between themselves and consumers alike - all while helping make every mom feel appreciated too! Always keep in mind that lovemarks use these types of digital marketing strategies to create long lasting engagements.
How to Plan Your Mother's Day Email Marketing Campaign?
According to the latest statistics, last year American shoppers had spent over 30 billion U.S. dollars on Mother's Day. We should clarify that the amount has been increasing every other year since 2019. Also a conducted survey states that 45 % of shoppers (or the gift hunters:) search for a unique gift for Mother's Day, and this unique gift mostly turns out to be "a gift of experience" mostly among younger consumers. 
Therefore if you want to achieve success at Mother's Day email marketing campaigns, you should start with setting clear goals and objectives. Firstly you should determine what goals you want to achieve, whether it's boosting sales according to customer behaviors, increasing brand awareness or just driving traffic to your website by using the popularity of the day. Then, you should identify the target audience of the campaign by analyzing your customer database and segmenting them based on demographics, preferences and purchase history. These one by one steps are going to help you to tailor your exact messages and offers to resonate with your audience. If you have something special to offer, do not hesitate to include it in your campaign. Considering what you can suggest to your customers and clients special to Mother's Day will also be part step of your email marketing campaign. 
Finally, try and use Mailsoftly for a practical, fast and time-saving email marketing software solution! Create contact list, segment it, design, plan & your emails, email marketing campaigns; then track and analyze your campaign statics to achieve better results!. Mailsoftly provides customizable templates, list segmentation, schedule of campaigns, A/B testing and more to enrich your email marketing efforts!
Creative and Inspiring Mother's Day Email Ideas
As Mother's Day approaches, it's essential to craft email marketing campaigns that captivate your audience and generate interest in your offerings. You may be able to create memorable campaigns which will resonate with your customers with a combination of creativity and a touch of personalization; finally these successfully created campaigns will drive results. Let's explore some innovative Mother's Day email marketing ideas, starting with a brief overview:
Personalized Mother's Day gift ideas

Exclusive Mother's Day offers and discounts

Mother's Day themed content and storytelling

Mother's Day countdowns and reminders

Integrate Social Media to Your Campaign
Now, let's dive deeper into each of these mother's day newsletter ideas and see how they can make your Mother's Day email marketing campaign truly stand out:
Personalized Mother's Day Gift Ideas
First of all, consider offering exclusive discounts or free gifts with purchase on certain items related to Mother's Day; of course, flowers and chocolates are classic ideas, however you may add a personal touch to any traditional idea to make it unique. It would be astonishing if your customers may add a personal note, a photo, a short poem, or a lovely Mother's day quote to create a personalized effect for their gift. You may also offer a selection of personalized gifts, such as engraved jewelry, custom photo albums, or monogrammed accessories. Use your customers' purchase history to suggest relevant products based on their preferences. Additionally, if you're selling or promoting personalized gifts or souvenirs, you can turn your product range into a hen that lays golden eggs! By showcasing these unique offerings and the added value they bring, you are going to leave a lasting impression on your customers as well as increasing the sales. This long term impression will make them more likely to return for future celebrations and occasions.
Exclusive Mother's Day Offers & Discounts
You may encourage customers to shop for their mothers with limited-time offers, such as bundle deals or free shipping. Highlight these promotions in your email marketing strategy to drive urgency and conversions. Then you should create an email campaign featuring unique gift ideas that cater specifically to moms – whether it be something practical like kitchen gadgets or pampering products like spa days and massages; there are plenty of options available depending upon what type of product/service you offer at your store! You could even feature different types of mothers (e.g., working moms vs stay-at-home moms) so everyone feels included in the celebration no matter what stage they're at in life right now! 
Mother's Day Themed Content & Storytelling
Share heartwarming stories about mothers or showcase your team's own mothers to build an emotional connection with your audience. You could include personalized messages from your company's staff members wishing each customer a happy mother's day when they open up their emails - these small touches go a long way towards creating meaningful connections between your business and its owners. Consequently such an email campaign can make your brand more relatable and strengthen customer loyalty.
Mother's Day Countdowns & Reminders
Send countdown emails leading up to Mother's Day, reminding customers of the upcoming celebration and the importance of finding the perfect gift for their mothers. These timely reminders can help reduce last-minute shopping stress and encourage customers to make thoughtful purchases ahead of time. By offering helpful gift suggestions and emphasizing the limited time left to shop, you can create a sense of urgency that drives engagement and conversions. Lastly, don't forget to showcase any special promotions or deals, as this can further incentivize customers to act quickly and make the most of your Mother's Day offerings.
Integrate Social Media to Your Campaign
Finally, don't forget about social media integration when crafting your Mothers Day email campaigns - by including links back to social media pages of your brand, people can post pictures and stories sharing the love for their mothers & family. By incorporating customization options, you'll tap into the growing desire for one-of-a-kind, meaningful presents that stand out from the crowd. Furthermore, promoting these personalized offerings on social media and through targeted email marketing campaigns can help you capture a larger share of the Mother's Day market and increase customer satisfaction. By utilizing these creative strategies within your own Mothers'Day promotional emails this year ,you'll be able ensure maximum engagement among potential buyers looking for perfect presents come May 14th.
Striking Subject Lines for Mother's Day Email Campaign Ideas
Now let's check some effective mother's day email subject lines for the campaign ideas we've listed above. You can find 5 different striking subject lines samples to use in mother's day newsletters to achieve higher open rates! Let's check:
Personalized Mother's Day gift ideas:
"Make Mom's Day Extra Special with Personalized Gifts 🎁"

"Create Unforgettable Memories: Unique Personalized Gifts for Mom"

"Show Your Love with Customized Gifts for Mom"

"Surprise Mom with One-of-a-Kind Personalized Presents"

"Discover the Perfect Personalized Gift for Mother's Day"
Exclusive Mother's Day offers and discounts (mother's day sale email subject lines):
"Limited-Time Mother's Day Deals: Save Big on Gifts for Mom!"

"Exclusive Discounts Just for Mom: Celebrate Mother's Day in Style"

"Mother's Day Special: Unbeatable Offers on Gifts She'll Love"

"Don't Miss Out: Amazing Mother's Day Discounts Inside!"
Mother's Day themed content and storytelling:
"Celebrate the Magic of Motherhood: Heartwarming Stories Inside"

"A Tribute to Moms: Inspiring Stories for Mother's Day"

"The Love of a Mother: Uplifting Stories and Gift Ideas"

"Discover the Power of a Mother's Love: Stories and Gifts for Mom"

"Honoring Moms Everywhere: Inspiring Tales for Mother's Day"
Mother's Day countdowns and reminders:
"Countdown to Mother's Day: Don't Miss These Fantastic Deals"

"Only 7 Days Left to Find the Perfect Gift for Mom!"

"Last Chance: Get Your Mother's Day Gifts in Time ⏰"

"Time's Running Out: Shop Now for Mother's Day Gifts"

"Mother's Day is Almost Here: Secure Your Special Gift Today"
Integrate Social Media to Your Campaign:
"Join Us on Social Media for Exclusive Mother's Day Surprises!"

"Share the Love: Tag Us in Your Mother's Day Celebrations 📸"

"Stay Connected: Follow Us for Mother's Day Inspiration and Offers"

"Discover More Mother's Day Magic on Our Social Channels"

"Let's Celebrate Mom Together: Join the Conversation on Social Media"
Bonus : Mother's Day Email Examples
In this digital age, there are numerous ways to reach out to your audience and wish them a Happy Mother's Day. From email Mother's Day cards to crafting the perfect Mother's Day email message, the possibilities are endless. For example, you could create an engaging Mother's Day email copy that includes a heartwarming message, beautiful images, and even personalized elements, like your customer's name. Here in our blog post we provide some email examples about Mother's Day addressed to clients, which could be easily adapted for different audiences. Another idea is to send a happy Mother's Day email to your subscribers, featuring curated content, such as a selection of inspiring stories about motherhood or exclusive offers tailored to the occasion. You can also use the below example of happy mother's day email template to employees which is also shared below.   
Ultimately, the key is to find the right balance between promoting your products or services and expressing genuine appreciation for all the incredible moms out there.
Email Template Example For Mother's Day Email To Clients
Subject: Celebrate Mother's Day with [Company Name] - Special Offers Inside!
Dear [Client's Name],
As Mother's Day approaches, we would like to take a moment to express our appreciation for all the amazing mothers out there. Their love, support, and dedication make our world a better place.
To honor these incredible women, we're excited to announce our special Mother's Day promotions, available exclusively to our valued clients like you.
[Describe the Mother's Day promotions]
To redeem these offers, simply visit our website and use promo code MOTHERSDAY2023 at the checkout. But hurry, these deals are only available until May 13, 2023; 23:59 pm
At [Company Name], we're proud to be a part of your Mother's Day celebrations and appreciate your continued support. Don't forget to follow us on [social media platforms] for more gift ideas, updates, and exclusive offers.
Wishing you and your loved ones a wonderful Mother's Day filled with joy, love, and cherished memories.
Warmest regards,
[Your Company Name]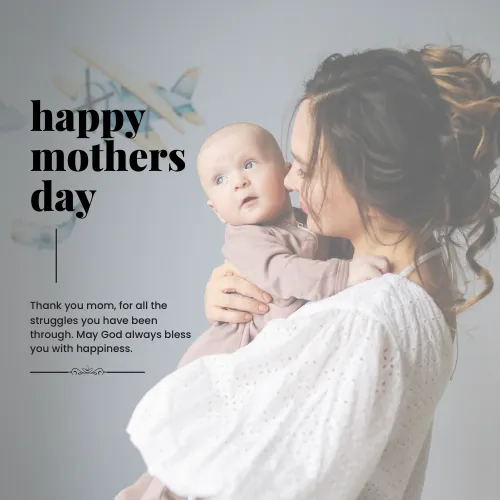 Happy Mother's Day Email To Your Subscribers
Subject: Your Mother's Day Gift Guide is Here - Find the Perfect Surprise for Mom! 🌸
Dear [Subscriber's Name],
With Mother's Day just around the corner, we know finding the perfect gift for the special women in your life can be a challenge. That's why we've put together a curated selection of our favorite Mother's Day gifts to help you show your love and appreciation.
[Include a link to your Mother's Day gift guide or a list of product recommendations.]
From beautiful email Mother's Day cards that will make her smile to unique presents she'll cherish forever, our gift guide has something for every mom.
As a thank you for being a part of our community, we're also offering a special discount on our entire Mother's Day collection. Just use promo code 2023MOMLOVE at checkout to enjoy [discount percentage] off your purchase. But don't wait too long - this offer ends on [end date of promotion]!
To make this Mother's Day even more memorable, we invite you to share your favorite moments, stories, or memories of your mom on our social media channels using the hashtag #[Your Company Name]LovesMoms. Together, let's celebrate the incredible women who have shaped our lives.
Wishing you a Happy Mother's Day filled with love, laughter, and unforgettable moments.
Best regards,
[Your Name/ Title/ Company'sName]
Happy Mother's Day Email Template To Employees
Subject: Celebrating Our Amazing Moms: A Special Mother's Day Message for [Company Name] Employees
Dear [Employee's Name],
As we approach Mother's Day, we'd like to take a moment to celebrate all the incredible mothers in our [Company Name] family. Your hard work, dedication, and love make a difference not only to your children but also to our entire team.
To show our appreciation, we're offering a special Mother's Day perk for all employees: [ details of the perk]. We hope this small gesture brings a smile to your face and helps make your Mother's Day even more special.
Wishing you a day filled with love, joy, and appreciation.
Happy Mother's Day!
Best regards, [Your Name] [Your Title]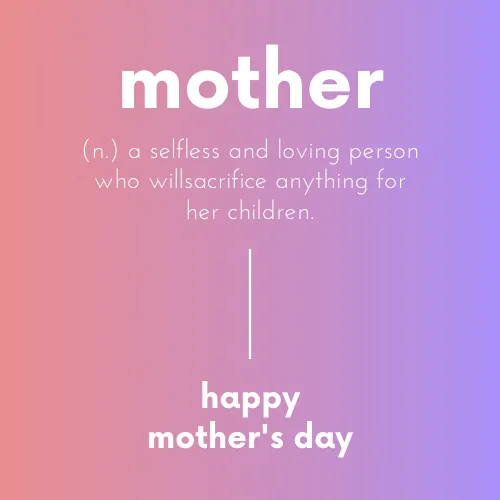 Example for Mothers Day Gift Card Note
Dear Mom,
Words cannot express how much you mean to me. You've always been my rock, my guiding star, and my endless source of love and support. On this special day, I want to thank you for all the sacrifices you've made, the wisdom you've shared, and the love you've given so generously.
May this gift bring you joy and remind you of how much I appreciate and cherish you. Happy Mother's Day, Mom! I love you more than words can say.
With all my love,
[Your Name]
Now try and Use Mailsoftly free to send each email example on the 14th of May! 
To Summarize;
In this comprehensive article, we've highlighted the importance of Mother's Day as a special occasion to honor and celebrate the incredible women who've made a significant impact on our lives. Alongside the sentimental value of this day, Mother's Day presents a valuable opportunity for businesses to engage with their customers through well-crafted email marketing campaigns. We've provided numerous ideas, subject lines, and email samples to inspire your Mother's Day email marketing efforts in 2023. By using Mailsoftly, you can seamlessly implement these creative campaign ideas and fully harness the potential of email marketing to boost your sales this Mother's Day. Don't miss out on this chance to connect with your audience and make a lasting impression by delivering heartfelt, engaging, and effective email content.
Happy Mother's Day 2023 to all amazing moms who are turning our lives into miracles!
We couldn't exist if it wasn't you…