Valentine's Day Email Templates for Your 2023 Email Campaign 
Valentine's Day is one of the many holidays that only celebrate one thing, but it is celebrated in many different ways. That one thing is … drum roll, please … LOVE! Love is what Valentine's Day is all about. Everything is done with passion in mind, from the chocolates to the glass of wine to the gifts exchanged. So, with this forefront of a marketing opportunity, why not capitalize on it and remind or show people what they can LOVE about your brand and its products? 
There are many ways that email templates can be broken up to show the importance of each piece of the campaign. Lots of colors and imagery and significant components to be incorporated. That being said, red and pink are the colors associated with Valentine's Day, but it does not mean they are the only colors that can be used for Valentine's Day. There are many ways to incorporate the spirit of love without painting the page with hearts and the two colors most commonly associated. 
Templates make the job easier, meaning that if you find a template that genuinely works for the messages you are trying to convey and the template is on brand, then go ahead and keep it in your back pocket. The perfect templates will allow easy usage from copying and pasting content and uploading your images. If you ever get the chance to use templates, try a live template. These are super interactive as they constantly update themselves with countdown timers, sales, inventory, etc. These are all beneficial components to making the job easier. 
Benefits of Email Templates
Save Time: Frequently, marketers spend two or more hours creating a campaign, depending on the content and design. If the drive needs to be approved and sent out for testing, it takes even longer than that. Email templates allow you to plug your content into pre-existing templates, saving you time and focusing on other things until then. This is exciting because you get to spend more time creating content as opposed to the tedious efforts put into the design. 
Consistent: When using templates, there is a consistency that is fluid throughout the email campaign. This also shows a better brand experience for subscribers and prompts them to stick around for longer. Many users will only subscribe if they are satisfied with brand content which will give the brand another chance. 
Email templates allow the brand to send the correct message and stay on point in terms of colors, logo, and aesthetics. The results will be positive as they enhance the brand experience and the subscribers will stay intrigued. 
Create a personalized experience: Personalization is crucial to successful email marketing. Many emails come in and out of an inbox every day, and adding a touch of personalization can truly set you apart. Think of it as you are in a sea of people. In this case, it would be emailed, but somebody calls out your name, and you turn around because it caught your attention. For example, the same goes for including a first name in a subject line. Adding basic personal information such as the first name is one approach, but it can get much deeper than that, such as using locations or weather to personalize an action. 
Template Tips and Tricks that can help you stand out this Holiday season
Use Emojis to stand out in the crowd: The valentines day season is a great time to get creative and spice up subject lines. You can be sure to catch the subscribed attention if you are to use something creative and unique. Wanting to use subject lines that see the alert, here are a few that we recommend for 2023!
Don't Forget To Treat Your Furry Valentine 🐶🐱

Get Ready for Valentine's Day 🍫🌹

Valentine's Day Is Right Around The Corner ❤️

Cupid's Calling 💘

Valentine's Isn't Complete Without Jewelry 💍
Use Discounts to create a sense of urgency: Discounts are great to ensure the audience is enticed. Meaning that if something is being offered, the likelihood of somebody, or in this case a subscriber wanting to take advantage of that, skyrockets on the interactions with your email. There are great ways to offer discounts around valentines Day, such as if you spend a certain amount of money; a product will be added for free, or a discount on their top items of the year. There are many ways to do this; here is a template that would be a great first start at where to create your campaign with Mailsoftly!
Hey [Lead name],
It's that time again — it's important to honor that special somebody in your life: Your steadfast love.
While I can't help you choose the best Valentine's gift or the perfect pair of earrings for your significant other, I have something better than that! 
If you buy before February 14th, I can offer you a special discount of [insert your value] for [your product]. [Product name] can help you [main pain point and solution].
Click below on this email and take advantage of this offer today.
Happy Holidays,
[Your name]
Show Love!: Now we all know this holiday is based around love, whether that is the love of a pet, significant other, spouse, food, etc., there are many things to love. Therefore any brand is welcome to participate in these email campaigns. Getting creative and making it appreciate the recipient is crucial when buying gifts. 
Hey [Lead name],
Happy Valentine's Day! We wanted to take the time to show you the perfect gift for your significant other. Ranging from men's and women's jewelry, there are so many options for your perfect other. 
Best regards,
[Your name]
Help by offering a plan: Giving helpful advice to those receiving your campaigns is the best way to make a lasting impact. This being said, there are great ways to give action plans to those needing more urgency. Offering to make life easier and not to forget a holiday that is made for couples and providing a solution to a future mistake is a clever yet helpful marketing tactic!
 Let's check out 4 Template Examples. 
There are many beautiful things about templates, as mentioned above, but let's check out some of our templates and how they did amazingly, and how they could improve. Remember, no campaign is ever perfect! Keep in mind that these template examples have no brand on them; take this opportunity to mentally attach your brand to the advertisement and see which works for you. 
Example 1: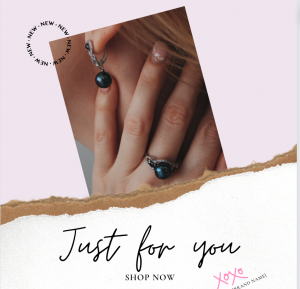 Dos: This email campaign takes on the idea of simplicity. Using clear images and text makes the message clear that they are selling jewelry and they have just released new products. The washed-up paper portrays the ideal of a love note or letter written and signed by the brand stating "XOXO ."Now, this encapsulates the idea of simplicity even with the simple splash of pink. If this is the approach that matches your brand, this is what works for you. 
Don'ts: Although this brand did indeed keep it simple, it is almost hard to tell that it is an advertisement for Valentine's Day. The splash of pink and XOXO are the two actual pieces of the holiday that stand out. 
Altogether, this campaign does a great job of staying simplistic. 
Examples 2:
Dos: This email campaign has a lot of information being contained - but it is spaced out so well that it does not give the feeling of being overwhelmed. A few things this email campaign does well is to not market their brand as something to buy as a gift but instead for you to buy for yourself on this momentous occasion. Breaking it up by saying her, us, and he gives the idea of truly shopping for a new outfit even if that wasn't originally on your mind. The splash of pink and the top photo, as well as the far left image, do a great job of incorporating the Valentine's Day Theme subtly but in a fun way. Finally, I want to mention the 'add cart' at the bottom of every photo. This makes it easy to shop for fun styles at the click of a CTA button. 
Don'ts: With all the good things about it, there are a few critiques that can be made. The first is For "us" I am not entirely sure what the meaning is unless the brand is promoting matching outfits or something along the sort, as the photo shows a man and women in matching white T-shirts. The second notice of mention was the images mentioned in the Do's are very Valentine's Day supportive, whereas the other two are more basic and not as on theme. Finally, the CTA is excellent; having it at the bottom of each is very smart, although it says "Add Cart," which is confusing as it isn't specific on what to add to the cart in that far left photo.  
Example 3: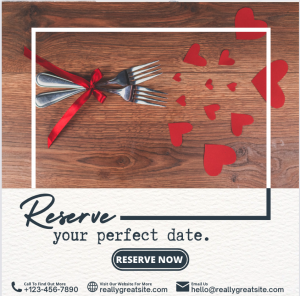 Dos: So many components of this email marketing advertisement were done well. The image chosen speaks of dining and valentines automatically, leaving no room for question on what the campaign is circulating. It also mentioned Reserve as a large part of the decoration because it is the campaign's proper focus. The idea is to reserve your perfect date, meaning pick a restaurant for your date before it is too late. It is also well done in the fact that the "reserve now" call to action button is enormous and apparent for all to click. Finally, the additional information of calling, emailing, and visiting the website are all significant components for easy-to-find necessary details. 
Donts: When observing this, there are not many edits that need to be made. I suggest adding a photo of a meal in case there is confusion about what a fork would be used for. 
Example 4:
Dos: There are great colors in this campaign; the pops of color are all very fun and attention-grabbing. The colors also are all aesthetic and relate to one another. The shop now CTA has great placement as they each promote different items. 
Do: Now, to look at the improvements, nothing about this campaign says valentines day. There are no Valentine's Day-specific images or verbiage on the page. The 50% off isn't attached to the idea of valentine's Day either. There is also a lot of color on this page - it is almost very overwhelming as it pulls attention away from everything as you almost decide where to look. The images are not in theme at all, varying in background color and not expressing what the brand represents. Finally, at the bottom, there needs to be contact information regarding where to email or even suggest contacting the brand. 
All these templates have their positives and negatives, and so will the templates that you choose to use. Do not let this be discouraging; instead, use it as the opportunity to grow and see where you can adjust and tweak to have it match the brand's identity. Many templates out there do offer great flexibility when it comes to creativity standards. 
Wrap it Up!
Let's bring it all together! There are many benefits to using templates. It will offer the ability to personalize emails, save time and have consistency behind your brand's identity. These are all great things, and it is fun to mess with the templates and see what fits your brand. As you see, every template has pros and cons, so keep that in mind and be sure not to get frustrated. You are, in the end, saving time that could be designated elsewhere.