Useful Follow Up Email Templates and Examples
People and companies still prefer to use mailing as one of the main communication channels, no matter how popular other trending tools are. Besides, writing about a project and keeping the clients up-to-date via email instead of instant messaging is yet much more decent on a professional basis. So here comes the question, how can you create an efficient email body text or a whole structure to keep up with a proper style? Mailsoftly's Email Templates are at your service to create the most appropriate and beneficial follow up email templates and examples within minutes. 
Follow up mailing is one of these types of emailing that every one, including but not limited to email marketers, digital marketing specialists, sales specialists, PR consultants frequently use to keep up with the on going processes and communications. In the previous blog post, titled as "what is follow up mail" you can find the details & tips on writing a coherent and effective follow up email. In this article we will give less definition but more handy examples for useful follow up templates targeted to specific circumstances. Please keep on reading to find an exact solution for the follow up email sample you search for. 
MAIN TYPES OF FOLLOW UP EMAIL TEMPLATES
There are several advantages of communicating via email: the communication process itself offers many benefits and gains. A well written, follow up email format may considerable strengthen the possibility of captivating attention of a potential customer, being #1 candidate after a job interview  or clarifying the next steps after a business meeting. 
Since it is not surprising that companies deal with email marketing and follow-up emails, particularly, it is advantageous for them to use automation to follow-up emails to achieve success. A follow up cold email is a good example of how this can be accomplished. These emails are often automated and are created based on a predefined schedule. It's essential to master how to craft a follow-up email template in order to improve your reply and conversion rate.
Through this article we will give out follow up email samples for significant types of follow up email examples such as Marketing & Sales Follow-up Emails, Networking & Business Follow-up Emails, Recruitment Follow-up Emails and No Response Follow-up Emails 
Let's dive deeper to check the basic examples for gentle follow up email samples. 
Standart Polite Gentle Follow-up Email Samples
#1 Example (formal): 
Hello [First Name],
I hope you are doing well. It was great to speak with you the other day, and I wanted to follow up to see if you had any additional questions or if there was anything else I could do for you.
Thank you for your time and I look forward to hearing from you soon.
Best Regards,
[Your Name]
#2 Example (formal): 
Hello [Name], 
Could you have the chance to take a look at the business catalog I sent the previous week?
I emailed you because I think it just fits with your company's target goals. 
If you are not interested or there is another person you would like me to follow up with, please let me know.
Best Regards, 
[Name-Surname]
[Signature]
#3 Example (sincerely): 
Hi There!
I just wanted to check in to see if you had any updates on the project we discussed last week. I'm eager to get started and would love to hear any news you might have.
Thanks,
[Name]
Marketing & Sales Follow-up Email Templates 
In order to achieve success in digital marketing and sales departments a confirmed and functional email marketing strategy is essential as we mentioned before on our blog posts. Regarding marketing and sales follow-up emails, digital marketers should always keep in mind that your job just starts after sending proposals! Because a follow up proposal email is definitely beneficial to keep ahead of your competitors. Do not intend to be pushy; however, the potential clients and customers should be reminded of your proposal on a regular basis; namely until getting a positive or negative response. Therefore, sales follow up email examples are the most frequently used templates among the sales representatives and specialists to keep the relations warm and updated. The follow up sales emails are also essential to monitoring the projects' on-going processes. By means of client check in emails  you can track the active status of the project after proposals, the won or lost deal levels or if the client is a sales qualified customer or not. The well-written follow up emails for sales, support the marketing procedures of companies as well as a part of a digital marketing strategy.  We can summarize the benefits of sending follow up emails after an initial marketing campaign as:
Keep your brand top of mind

Stay in touch with customers and prospects

Generate new leads

Drive more sales
Below you can check the samples for follow up emails to client after sending proposal : 
#1 Example (formal): 
Hello [Name], 
I hope you all are well.
I would like to know if there was an opportunity to consider our proposal I sent the previous week? Perhaps you may have questions and I can help you to clarify the blurry parts.
I will be happy to answer any of your questions; you can just contact me.
Kindest Regards, 
[Name-Surname]
[Signature]
#2 Example (formal): 
Hello [Client's Name],
Thank you for considering our proposal. We are confident that we can provide the best possible solution for your needs.
We would like to arrange a meeting to discuss the proposal in more detail and answer any questions you may have. Please let us know when would be the best time for you.
Thank you for your time,
[Your Name-Surname]
#3  Example (sincerely): 
Hi [First_name],
Haven't heard back yet, so I'm assuming this isn't a priority at the moment.
Please feel free to reach out if that changes. Would love to give you a quick look at the platform and show you which companies are using our software product with the aim of creating networks with their clients. 
Until then, all the best.
[Your Name-Surname / Signature]
You can also find the alternatives for the best follow up emails for sales within the Mailsoftly product as well.
Networking Follow-up Email Templates 
In our digital world, it's not enough to introduce yourself to someone and leave it at that. You need to continue building trust and a relationship with them so they'll remember you the next time they have a need for your services or products. This requires an additional step; following up on initial contact in order to stay top of mind without being too intrusive. When you use that strategy in the world of mailing it is basically called networking follow-up emails. Mails to keep the network alive and functional is one of the most effective tools available to marketers and public relations specialists. Whenever you email someone with a request for a meeting or a phone call, it's important to write a follow-up email that not only addresses your original request, but also conveys the urgency of your message. This will help the other party understand why you need to talk and it makes sure that you will not be reneging on your agreement. Besides follow up meeting emails, or thank you email after business meetings is a sign of courtesy. 
Below you can find follow up meeting email samples and next steps email template as well. 
#1 Example: 
Dear Mr / Mrs. [Surname]
Thank you for the meeting we held yesterday. We really enjoyed our discussion and found it beneficial for further process. We look forward to continuing the conversation.
If you were interested during the meeting, here are a few items that were not covered:
– Any other questions or concerns?
– What is your feedback on these topics?
Please inform us about your ideas on the subject
We will be glad for your inputs, 
Best Regards, 
[Name-Surname]
[Signature]
 —-
#2 Example: 
Hi [Name], 
I kindly write just to follow up on my last email. I didn't hear back from you on the subject [title of the subject etc.]  If it makes sense to talk, please inform me about your calendar. 
If this information isn't relevant to you, who is the appropriate person for me to talk to?
Thank you for your time and help,
[Name-Surname]
[Signature]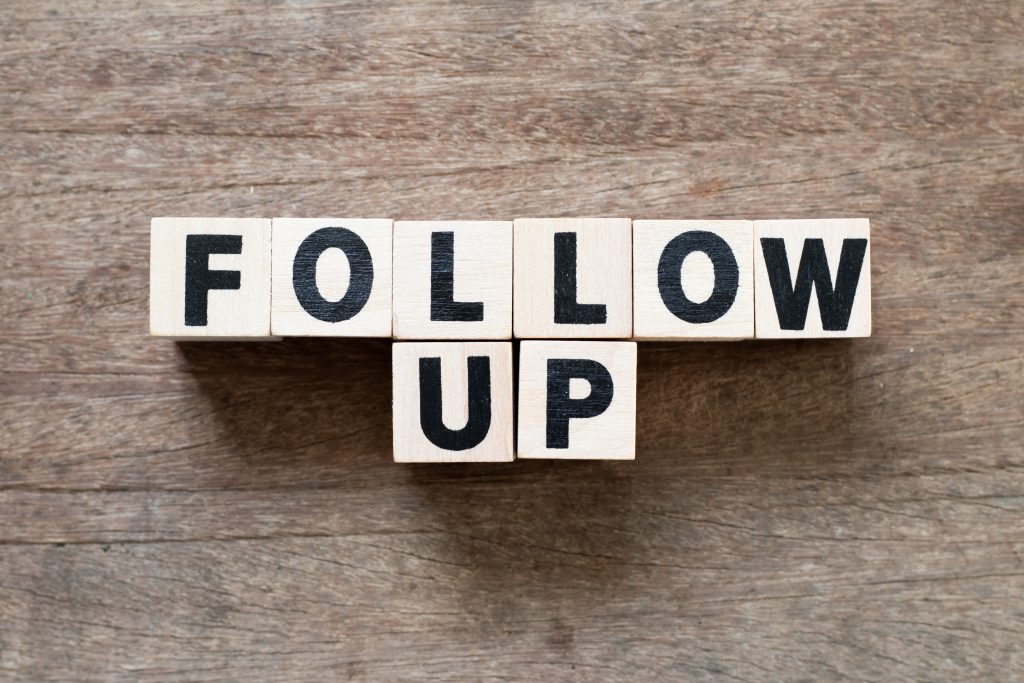 Recruitment Follow-Up Email Templates 
After applying for a job or handling an interview, the hardest part comes… The waiting process is generally stressful and people usually get anxious until the interaction comes from the recruiter's side. Recruitment follow-Up emails can be helpful in order to ease the process and they also may add an extra value to the application progress. Especially "thank you letter templates after an interview" are practical tools to keep the relations warm and sending such mail proves the kindness of the job candidate. These mailings may be referred to as a second step for the meeting as well. 
Below you can check 'thank you letter samples after job interview' as a type of recruitment follow-up emails: 
#1 Example: 
Dear [Name-Surname], 
My name is [Name-Surname] and I recently applied for the marketing manager job posting and it would be an honor to join [company] and bring your marketing projections to fruition.
With more than 10 years of experience in both traditional and online marketing, I have gained extensive knowledge and expertise in the most important marketing strategies used today. In my previous position, I created and implemented a marketing program that increased sales by 35% in only four months. Using this skill set, I feel that I could bring similar results to your organization.
I would be happy to submit additional information if you need it.
I look forward to hearing from you.
Kind regards,
[Name-Surname]
#2 Example: 
Hello [Name_Surname],
I applied for an open position at [company] for the position of [job title] on your online career site. I believe the position fits incredibly well with my 15 years of experience in database [field of experience]. I kindly ask you to check my CV at the application and Linkedin profile  [profile link] for my other skills.
I will be glad to schedule a call and talk with you further about the position and my experience. I am available from Monday to Thursday both next week and the following week from 12 p.m. to 4 p.m. 
I look forward to speaking with you. 
Kindest Regards, 
[Name-Surname]
Below you can find another example which is send by recruiter side (or the headhunter) for an opening position:
#3 Example: 
Hello [Name-Surname],
I can imagine you are probably fairly busy; however I thought I would circle back in case you missed my first email.
We are a specialized search firm that is looking for engineers like you at a great growing company. We think you perfectly fit the bill and we would like to contact you about the details of the subject. 
Would you be able to take 10-15 minutes out to talk about this role? 
Best Regards,
[Signature]
No Response Follow-up Email Samples
When you reach out to prospective customers or clients, you often don't get a response back right away. And even if you do get a response, it doesn't always mean that they're interested in doing business with you. So what do you do in these situations? One option is to follow up with a no response email. No response emails are exactly what they sound like – emails you send to people who haven't responded to your initial contact. In addition to that, there are many benefits of using follow up email examples after no response. First of all by sending these types of emails, you can increase your chances of getting a response from your recipient. Furthermore, these emails can help you build relationships with your customers and prospects. By taking the time to follow up with your recipients, you can show them that you value their business and are interested in hearing from them.
Follow up on no response emails can also be used to collect feedback from your customers. By asking for feedback in your follow-up email, you can learn more about your customer's needs and how you can improve your products or services. Finally, feedback collected from No Response follow-up emails can be used to create case studies or testimonials. These materials can be used to create marketing content that can help you attract new customers and close deals.
Hence, crafting a follow up email after no response may be a compelling task. Please check below examples for the subject follow up email sample after no response: 
#1 Example (formal): 
Hi [Name]
I'm writing to follow-up on my previous email as I didn't hear back from you. If it makes sense to talk, let me know how your calendar looks.
If not, could you please let me know who the appropriate person for me to talk to is?
Thanks for your help,
[Name-Surname]
#2 Example  (sincerely): 
Hello [First Name],
I hope you're doing great and haven't been too busy. I've been keeping an eye on your company and I'm excited to hear about the progress.
I'm reaching out to you because I'm interested in hearing more about what you have been doing for a while and seeing if there's any way I can help you. I know we spoke a while ago, but I wanted to make sure to follow up.
I'll be in touch soon,
[Name]
#3 Example  (sincerely): 
Hi [First Name],
I'm writing just to figure out the issue: Are you interested in receiving our emails in the future? You may be busy as hell for writing a long response, therefore it will be an enough reply just to send one number:
1 — I am unavailable now, follow up again sometime.
2 — I am not interested in your solutions.
3 — Can I find out more about the offer?
Thank you for your time!
Sincerely,
[Signature]
Conclusion
In this article, the types and benefits of using follow up emails are explained and we aim to give as many examples as we can. 
As it is underlined, sending follow up emails is a great way to stay connected with your customers and prospects, and they can be an effective tool for driving more business. If you're not already using follow up business emails, consider adding them to your next marketing campaign and networking strategy as well. Non pushy follow up mails proves that you're proactive and that you are not shy  to follow up. A successful follow up strategy  gives you another chance to make a good impression and to get your foot in the door. Finally, the chance of getting a response back increases which could lead to a new business relationship if applied properly. 
Try Mailsoftly's email templates featured within our software product and take the best of following up via email templates!